Dietrich Bonhoeffer – King's Man
Details:

Written by

Chris Appleby
Dietrich Bonhoeffer   audio
(Part of a series based on "A Dangerous Dozen" by C. K. Robertson.
Well today's superhero isn't quite the sort of king's man that we saw in that clip. For a start his background was nothing like that guy's; nor did he have access to the array of weaponry and technology that that man had. In fact this week's blockbuster would be more like Smiley's People than Kingsman. Nevertheless as we'll see, he truly was a King's Man and his work had certain parallels with both those fictional characters, as he worked as a secret agent to overcome one of the greatest dangers to the world of the 20th century.
But let's start at the beginning. Our hero's name was Dietrich, born in 1906 to Karl and Paula Bonhoeffer. His father was a professor of psychiatry and his mother a teacher. His mother came from a family of musicians and clergymen, well known in high society. Her aunt was taught piano by Franz Liszt and Clara Schumann. Her family was both artistic and intellectual. Similarly his father came from the German nobility through Dietrich's grandfather. His mother was a strong Christian but his father, being a scientist, was sceptical of such things. There were 8 children including Dietrich and his twin sister, Sabine. Questions and the exploration of ideas were encouraged and loud and energetic debates over ideas were a feature of their home throughout their lives.
Making Margins for Generosity
Details:

Written by

Chris Appleby
Today we're thinking about Generosity but before we talk about that I'd first like to do a little test. I'd like you to put up your hand if you consider yourself to be holy. Anyone?
Well, let's hear what God says about you being holy: (reader) "9But you are a chosen race, a royal priesthood, a holy nation, God's own people, in order that you may proclaim the mighty acts of him who called you out of darkness into his marvellous light. 10Once you were not a people, but now you are God's people; once you had not received mercy, but now you have received mercy." (1 Peter 2:9-10)
You are a chosen race, a royal priesthood, a holy nation, God's own people. So put up your hands now if you consider yourself to be holy.
Of course there's a big difference between being holy and acting that way isn't there? So what does it mean to act as in a holy way?
Creating Margins: Time to Serve Others
Details:

Written by

Chris Appleby
I guess you've worked out by now, if you've been here over the last three weeks that the theme of this sermon series is cutting back on the busyness of life.
What do you think? Is your life too busy? Do you find yourself trying to pack as much in to your life as you can?
I wonder have you done any of these things:
Stopping at an airport stopover on the way to holidays to visit friends or relatives you haven't seen for a couple of years?
If you're a parent do you find yourself dropping one child at ballet, taking the next to a piano lesson, doing the shopping then hurrying back to pick them up in the reverse order?
If you're a worker do you find yourself arranging meetings one after the other with no break in between?
I haven't done all of those, but I know others who do.
Prayer and the Trinity
Details:

Written by

Chris Appleby
Heb 4:6-8;    Eph 1: 3-14;   Luke 11:1-13  
I wonder, if you were here last week, how what Steve said about prayer has affected your prayer life, especially what he said about prayer in times of difficulty, when you just can't find the words to use.
But maybe that isn't your problem. Maybe you're happy to pray whatever your circumstances. Or is your problem that you're not sure if you're good enough to pray? Are there times when you feel like you've been so disobedient that God won't hear you; or perhaps that your problems are so insignificant that you shouldn't worry God with them?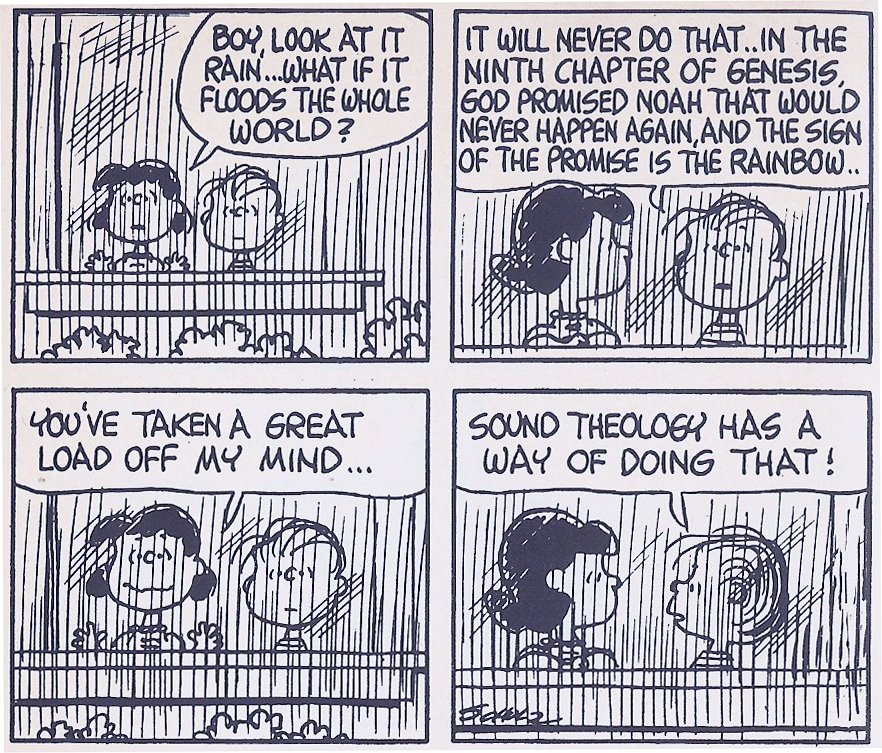 Well, as Linus would say good theology can be very reassuring.  
2 Tim 3:14 - 4:5 - Why Read The Bible
Details:

Written by

Chris Appleby
I wonder how many of you are old enough to remember a TV show called the Greatest American Hero. It was about an ordinary guy who encounters aliens, who've decided that earth's in such a bad way it needs saving. So they give him a belt that gives him super powers. They also give him a set of instructions for using the belt but somehow he manages to lose them; and so he blunders from one adventure to another, never really working out how to control these new super powers. I mention that because it's something of a parable of many Christians who've received the gift of the Holy Spirit, have been brought into the people of God, but they don't really know how to live from then on, because they've forgotten to read the instruction manual. It's not that they've lost the instructions but they've never stopped to read the details. In some cases they've never had their own copy of the instructions or the one they have isn't readable because it's in such old fashioned language. So, let me ask you,
Does it matter if I read my Bible regularly?