Heb 4:6-8;    Eph 1: 3-14;   Luke 11:1-13  
I wonder, if you were here last week, how what Steve said about prayer has affected your prayer life, especially what he said about prayer in times of difficulty, when you just can't find the words to use.
But maybe that isn't your problem. Maybe you're happy to pray whatever your circumstances. Or is your problem that you're not sure if you're good enough to pray? Are there times when you feel like you've been so disobedient that God won't hear you; or perhaps that your problems are so insignificant that you shouldn't worry God with them?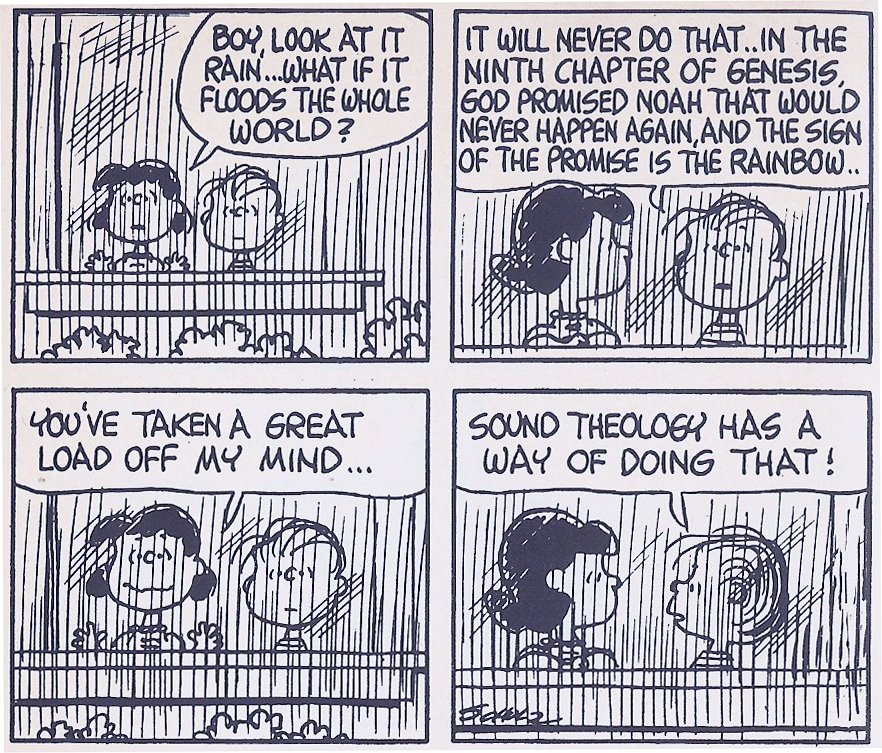 Well, as Linus would say good theology can be very reassuring.  
Today we're thinking about how our understanding of God as Three Persons in Trinity helps us think about prayer, helps us have confidence in bringing him all our needs, major or minor.
We regularly read of Jesus praying. A couple of weeks ago we read about him going out to a deserted place to pray until Peter came and found him. That's just one example. In today's reading from Luke 11 we find a similar occasion but this time, when he's finished praying,  one of the disciples asks him to teach them how to pray. Up until this point, as good Jews, they would no doubt have used the psalms or other chanted prayers in worship, but they had no concept of prayer as an intimate, personal communication with God. Prayer was the Priest's role, or something you did as a communal activity. So it must have been intriguing to see Jesus in these intimate conversations with God. So Jesus gives them some simple instructions, perhaps the most important of which is to pray to the Father.
Prayer and God the Father
God as the Father of Israel was a well-established concept but Jesus transforms this idea into a personal relationship between God and the believer. He can do that because he's the true Israel, the true Son of God. His instruction to his disciples on how to pray is actually an invitation: an invitation to share in the family of God, to come to God as our Father. Later they'll discover that that'll come about by being united with  Jesus in faith, by being adopted through Jesus Christ as we saw in our second reading.
We saw last week how Paul reminds us that we can cry Abba, Father because the Holy Spirit is bearing witness with our spirit that we're children of God.
But that on its own may not be enough to convince you that you can ask God for anything at any time. So Jesus tells them a parable. He says "Imagine one of you has a friend, and you go to him at midnight and say to him, 'Friend, lend me three loaves of bread; 6for a friend of mine has arrived, and I have nothing to set before him.' 7And he answers from within, 'Do not bother me; the door has already been locked, and my children are with me in bed; I cannot get up and give you anything.'" Now at that point we need to stop because the parable loses all of its power in our modern narcissistic world. That's exactly the response we'd expect today isn't it? In fact we wouldn't even think of waking our neighbour at midnight to borrow a loaf of bread! But this is the first century. The response of Jesus' hearer's would have been a gasp and a shocked "I can't imagine that happening!" Of course the man will get up and help, not because he's a friend, but because he's been asked, because he values his reputation as a hospitable host and a good neighbour. So how much more will our loving Father give us what we need? All we have to do is ask, seek, knock.
And if we think more about the image of God as Father, what would we expect him to do when we ask? We'd only expect him to give us good things wouldn't we? If a child asks for a fish a father doesn't give a snake, if they ask for an egg they won't get a scorpion. We love to give our children or grandchildren good things don't we? If we do that how much more would we expect our heavenly father to give us good things. Mind you, parents don't give a child everything they ask for, do they? Some things are not good for them; sometimes it's better if they wait a while; some things need to be worked for. So too, God doesn't give us whatever we ask for, whenever we ask. But what he does give us is always good for us – even if we can't see how at the time. That's why we should emulate children who are never afraid to ask their parents for something, because they know that they can count on their parents' love for them.
Notice though how Luke's account turns this around to the greatest gift that God gives. Jesus says "How much more will the heavenly Father give the Holy Spirit to those who ask him!" I wonder how many of us would sit down to pray for whatever our needs are but first ask God to give us his Holy Spirit. How would that affect both our prayer life and the rest of our lives?  
Before we move on to think about Prayer and God the Son, I'd just like to think about the way Jesus forms this prayer. He begins with an acknowledgment of the holiness of God and a desire that others would hallow his name. He prays that God's kingdom would come. Then immediately he prays "give us each day our daily bread". Do you wonder whether he's left the praise of God too soon? When we pray do you think you should be spending more time in praise and thanksgiving before you launch into your wish lists? Are those people who spend long times in contemplation and reflection on the majesty of God the more mature pray-ers?
Or could it be that Jesus teaches his disciples to pray like this because that simple acknowledgement that we depend entirely on God, even for our daily bread, is actually an act of worship; a surrender of our personal autonomy; an expression of trust in his divine majesty; a sign that we've truly grasped the incredible freedom of the Father-child relationship that we have with God.
By the way I've noticed around evangelical circles that prayers are often addressed to "Father God" as though 'father' were an adjective. Let me encourage you if that's been your practice to change it to "God our Father" or "Heavenly Father, or just "Father" as Jesus did here, so it's clear we're thinking of the intimate relationship we have as his adopted children.
Prayer and God the Son
So we generally pray to the Father but we do it through the Son. Jesus says in a number of places that we should ask in his name. So how does that work? What difference does it make that we pray through the Son?
The writer to the Hebrews very helpfully shows how Jesus fulfils the Old Testament role of high priest. In the Old Testament it was the high priest who interceded on behalf of the people of Israel. But we're told that we now "have a great high priest who has passed through the heavens, Jesus, the Son of God." (Heb 4:14) And notice his threefold qualifications. First, he's passed through the heavens. In Heb 8:1 he points out that that we have a high priest who's "seated at the right hand of the Majesty on high." So he's able to intercede directly with the Father. Second, he understands. "4:15For we do not have a high priest who is unable to sympathize with our weaknesses, but we have one who in every respect has been tested as we are." When we pray we can be confident that Jesus understands how hard it is to live in this fallen world. He knows how hard it is to resist Satan's temptations. And third, he's "been tested as we are, yet without sin." The fact that he didn't sin means that his death on our behalf was an effective atonement, an effective fix, for our sin.
Not only is Jesus the ideal priest for us fallen humans, understanding and without fault, he's also, as the writer to the Hebrews points out in ch7, an eternal priest. "7:25He is able for all time to save those who approach God through him, since he always lives to make intercession for them."
And he's a priest unlike the Aaronic priests of the Old Testament. He's been appointed by God as a priest in the order of Melchizedek. In Genesis 14, Abraham returns from winning a battle and makes an offering to Melchizedek who's described as the king of Salem, which means "peace" but also it's a shortening of Jerusalem. His name means king of righteousness.  David refers to him in Ps 110: "The Lord has sworn and will not change his mind, 'You are a priest forever according to the order of Melchizedek.'"
 So Jesus is the one appointed by God to be our intermediary. 
Does that increase your confidence in praying to God? Do you see what this all means? Let me sum it up:
Jesus understands us – you don't need to worry about whether your particular situation is too strange, too difficult. Jesus has lived as a human being just like us.
Jesus sits at God right hand ready to represent us. He doesn't just tell God what we're asking for. He's there as our representative. His presence at God's right hand is the evidence that the work of the cross is finished, once and for all. He stands in our place offering his righteousness on our behalf.
Jesus gives us access to God. In a sense he brings us into God's presence.
There's a story told of a dejected confederate soldier, following the Civil War, sitting outside the grounds of the White House. A young boy approached him and inquired why he was so sad. The soldier told him how he'd repeatedly tried to see President Lincoln to tell him how he was unjustly deprived of certain lands in the South following the war. On each occasion as he attempted to enter the White House, the guards crossed their bayoneted guns in front of the door and turned him away. Well, the boy motioned to the old soldier to follow him. When they approached the entrance, the guards came to attention, stepped back and opened the door for the boy. He proceeded to the library where the President was resting and introduced the soldier to him. The boy was Lincoln's son, Tad.
It's like that with us and Jesus. If you read the letter to the Ephesians which we heard the beginning of today, you'll notice the repeated reference to us being "in Christ". It's as though once we believe in him, once we give our lives over to him he takes us into his presence, spiritually at least, so that where he is we will be also.
Prayer, Jesus and the Gospel
Before we leave our thinking about Prayer and the Son, it's worth reminding ourselves of how the gospel impacts on our prayer life.
I mentioned at the beginning how some people might be worried that they're not worthy enough to pray. They haven't been faithful enough recently to qualify for God's mercy.
Some people suggest that your prayers will be more effective if you spend time fasting before praying.  Others begin their prayers by binding the demons that might oppose their prayers. But none of that has anything to do with the gospel. The so called spiritual disciplines might be a helpful way for us to keep our focus, to concentrate our mind, but they won't make any difference to the way God hears our prayers. God hears our prayers because Jesus is there in our place interceding for us. Someone once said "the floor of the throne room is sprinkled not with the sweat of my good works but with the blood of his sacrifice." Ps 51:17 tells us: "17The sacrifice acceptable to God is a broken spirit; a broken and contrite heart, O God, you will not despise."
 Prayer and the Holy Spirit
Finally a brief recap of what we heard last week from Steve.
It's worth remembering what we read last week in Romans 8 about the Spirit interceding for us. At those times when we feel unworthy, or confused, or simply come to God with mixed motives, we can have confidence that the Holy Spirit is living within us, communing with our spirit, taking the deepest thoughts of our hearts to God. And if those thoughts aren't entirely pure, Jesus' death and resurrection are able to purify them. And to return to where we started God will answer our prayers in ways that are good for us.
Let me finish with one final verse, this time from James 1: "17Every good and perfect gift is from above, coming down from the Father of the heavenly lights, who does not change like shifting shadows."
So when we pray, generally, we pray to the Father, through the Son, in the Holy Spirit.  Let's do it with confidence, praying to God, asking for his help, because we know that Jesus has died to make it possible, the Holy Spirit will enable us to pray good prayers and God the Father gives only good gifts to those who ask.