Prayer and the Trinity
Details:

Written by

Chris Appleby
Heb 4:6-8;    Eph 1: 3-14;   Luke 11:1-13  
I wonder, if you were here last week, how what Steve said about prayer has affected your prayer life, especially what he said about prayer in times of difficulty, when you just can't find the words to use.
But maybe that isn't your problem. Maybe you're happy to pray whatever your circumstances. Or is your problem that you're not sure if you're good enough to pray? Are there times when you feel like you've been so disobedient that God won't hear you; or perhaps that your problems are so insignificant that you shouldn't worry God with them?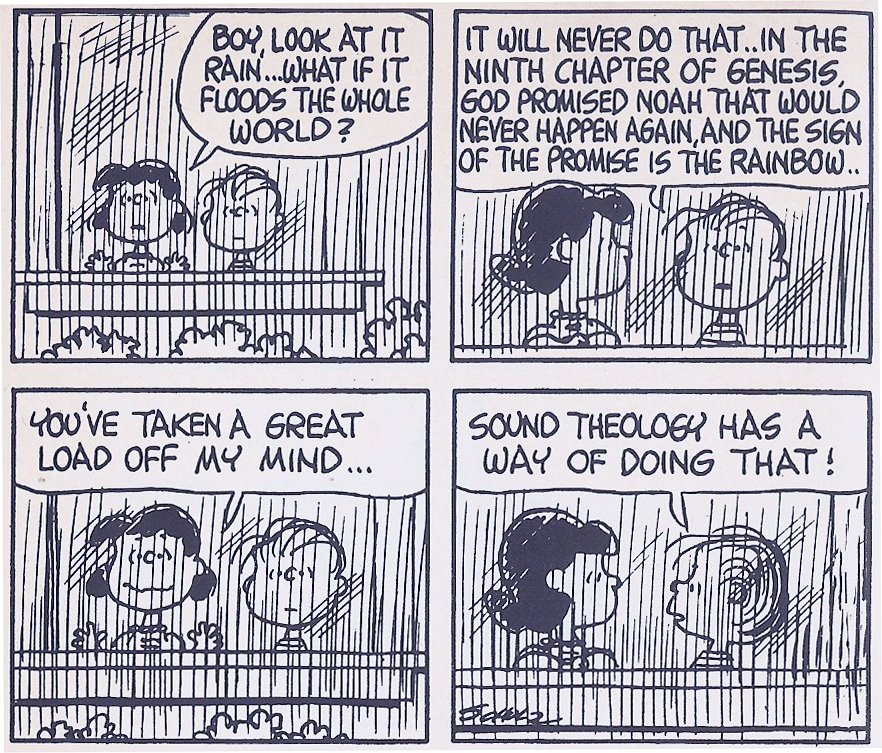 Well, as Linus would say good theology can be very reassuring.  
Creating Margins: Time to Serve Others
Details:

Written by

Chris Appleby
I guess you've worked out by now, if you've been here over the last three weeks that the theme of this sermon series is cutting back on the busyness of life.
What do you think? Is your life too busy? Do you find yourself trying to pack as much in to your life as you can?
I wonder have you done any of these things:
Stopping at an airport stopover on the way to holidays to visit friends or relatives you haven't seen for a couple of years?
If you're a parent do you find yourself dropping one child at ballet, taking the next to a piano lesson, doing the shopping then hurrying back to pick them up in the reverse order?
If you're a worker do you find yourself arranging meetings one after the other with no break in between?
I haven't done all of those, but I know others who do.
John 3:16-21 - Light on Darkness
Details:

Written by

Chris Appleby
At our Christmas carol service Steve was telling us about how much his son is enjoying the bright lights of London in the midst of the dark winter season. And it's not surprising. We often associate light with feelings of enjoyment or safety don't we? There's something very peaceful about sitting in a room lit be candles or in front of an open fire staring at the flames. When we walk into a dark house the first thing we do is to turn on the lights because they give us a sense of safety.
Light for Judgement
But in fact light isn't always about giving us a sense of peace and security.
When Di and I bought our last house we decided we'd put in an ensuite to the bedroom. So we had an architect draw up the plans, and then we went to a bathroom shop to see what fittings we should include. One of the must haves was a set of lights above the bathroom mirror. You may have something like that in your bathroom. Now you don't put lights above your mirror for the sake of safety or peace. Nor do you put them there so you feel like a Hollywood star when you're standing in front of it, like you're standing in the spotlight for everyone to see? You don't put them there so you can admire yourself in the mirror. In fact the opposite: those lights are actually there to show you all your faults; to show you the wrinkles in your forehead or around your eyes or lips, the spots that would be much better covered up, the hairs that need to be removed, or the moles that might need to be looked at by your doctor. A good light will do that for you, much as you mightn't actually want to know what it's telling you.
Mark 11:27-12:27 - Who do you listen to?
Details:

Written by

Chris Appleby
Who do you listen to?  audio
By What Authority 11:27-33
The story is told of a ship's captain during the war, who was sailing along on a dark night and saw a light on a collision course. So he got his signaller to flash a message: "Alter your course 10 degrees west." The reply came back "Alter your course 10 degrees east." The captain then signalled "Alter your course 10 degrees west. I am a Commander." The reply came back "Alter your course 10 degrees east.  I am a seaman third-class."
By this time the ship's captain was getting furious. So he signalled: "Alter your course 10 degrees west. I am a battleship." The reply came back almost instantly: "Alter your course 10 degrees east. I am a lighthouse."
That story addresses the issue of our passage today. That is the issue of authority. Where does authority come from? Sometimes it comes from your rank or status, as the commander in that story obviously assumed. But sometimes it comes from something innate like the immovable nature of a lighthouse set above a cliff. So where do you look to for authority for your life? That's not an easy question to ask in this day and age. Life has changed so radically in the last 50 years that what was taken for granted 50 years ago can no longer be assumed. Truth is all relative, we're told. Alternative facts are the go. Authority comes in various shapes and forms.
What's being done about the church? (Making church safe)
Details:

Written by

Dianne Shay
By Dianne Shay, St Michael's Anglican Church North Carlton Included with her kind permission.   Audio 

Luke 12:1-3 and Matthew 5:1-11
Pre-sermon Dvd FIS chapter 4: care for little children, don't hurt them https://www.youtube.com/watch?v=cK8VGOwu_wU&index=5&list=PLTj4KeEVypfD3QhiNDnphpYslSL083WLr  (if scene setting is required can introduce DVD as chapter 4 of Faithfulness in Service, developed as a church wide resource with the assistance and talent of aboriginal and TSI Anglicans from around Australia.)
Introduction
Today, we're going to talk about a topic that is not easy. In the Australian church, including the Anglican church, there have been instances of abuse of power by leaders in parish communities and, sometimes, a failure to respond appropriately when leaders in the church have been told about that abuse.
Awareness of the Royal Commission and the movie 'Spotlight' have focussed attention on institutional responses to Child Sexual Abuse. Parishioners have asked, "What is our church doing to respond to these abuses of power?" and many have also found the church and the gospel dismissed by people who aren't members of the church on the basis that churches are not safe places.
Read more: What's being done about the church? (Making church safe)
Mark 11:1-25 - Jesus Enters Jerusalem
Details:

Written by

Chris Appleby
Jesus Enters Jerusalem   audio
I wonder how many of you were around for the opening of Parliament house in Canberra in 1988. We were living in Canberra at the time so it was a big event for us. The weekend before we took part in a prayer walk around the Parliament House hill with thousands of other Christians, but the big event was the arrival of the Queen for the opening ceremony. People flocked to Parliament house to get a look at her. Schools took their students along – in fact our daughter Katherine was in the front of the crowd and was able to give her a rose as she went by. That really impressed her grandparents!
Well that's a bit like what it must have been like when Jesus entered Jerusalem on that first Palm Sunday. The city was buzzing. The word had got around. Jesus, the great teacher and healer was coming to Jerusalem, despite the danger from the Jewish leaders. Word was that he'd even been talking about death, predicting that he was going to be crucified, and saying that people had to be willing to take up their cross if they wanted to follow him. But that hadn't stopped him from teaching and healing people and he was still arguing with the Pharisees.
Sermons
Details:
Please note that the sermons on this site are here to encourage and challenge you. If you would like to use what you find here for your own preaching please feel free to do so with the following proviso: that you don't change the intent behind, or the theology of, the sermon.
I would also appreciate it if you let me know what you've used and if you've improved on it I'd love you to send me a copy so I also can improve.
To find sermons prepared before this site was launched please go to the St Thomas' archive site.